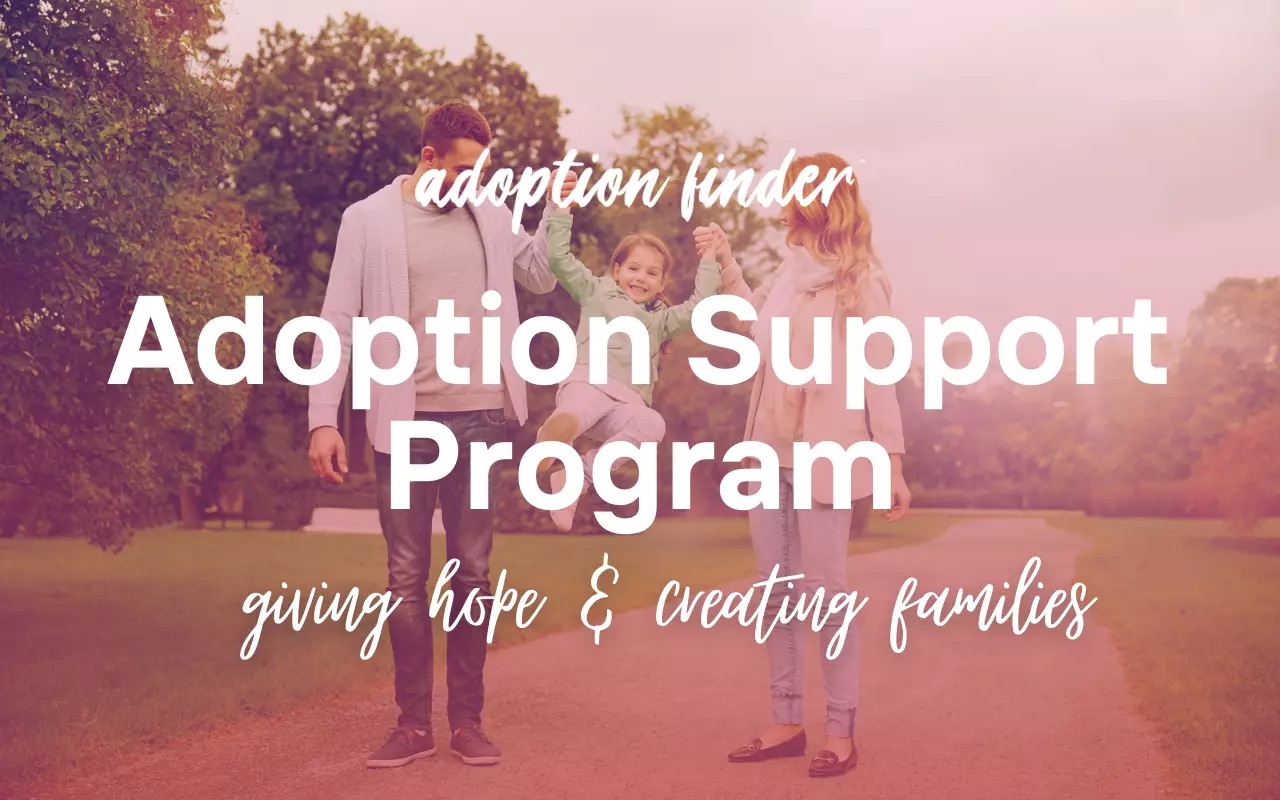 Our Adoption Mission for Hopeful Adopting Families (HAP's)
Since the beginning of our organization's start, we have been working hard for both adopting families and women with unplanned pregnancy (family preservation). It has become even more clear that our mission is incredibly important. Not just from the political and law changes of our country, but because there is a trend we have been seeing in the adoption sector that we are deeply saddened by and want to see changed for the better.
Our mission for adopting families is to reduce the cost of adoption by providing a platform for safe and verified identified matching. We have seen many for-profit adoption agencies take advantage of the hopes and dreams of adopting families. Many families have paid thousands of dollars for years in hope of getting a match and the agency or adoption professional is unable to do what they have promised. We want to change this and see a new season for Hopeful Adoptive Parents (HAP's).
We are now offering a new affordable membership option for HAP's that want additional support with self-matching, resources, and access to additional content to help them in their adoption journey. These options are available for a monthly membership subscription fee. See memberships tab for more info. 
We are working on adoption and foster care reform. We strive to make adoption more affordable for certified families. Download our innovative, user-friendly app available for Android and iOS users and join our free growing social group.
Our nonprofit organization is primarily ran on grants, sponsors, and generous donations. We have a shop as well that helps us fund our programs, so we always appreciate support through our merch!
We have trusted adoption agencies we recommend to help expecting mother's (EM's) and adopting families with all the legal parts of the adoption process. We have chosen them because these agencies do not charge thousands of dollars upfront to HAP's and provide no results. They are licensed, legitimate, and working toward the same goals as us for the best possible outcome for adopting families.
We are working at making adoption more affordable for certified families by partnering with these types of agencies because we want to see your family thrive and you invest that money you would have given to a for-profit agency, into your family.
We hope to start a new trend in the adopting sector, actually putting families best interest first. To see women supported, HAP's matching without the high cost, and to incentivize opening up our homes to children not only through private infant adoptions, but to children in foster care that need support, care, and love.
Adoption is the action or fact of legally taking another's child and bringing it up as one's own, or the fact of being adopted.
Adoption is a beautiful and giving act. It is the gospel played out in our very homes. There is a lot to it, so we want to help you navigate through it as best as we can.  

We are partnered with Cross many Heart Adoption & Family Services. 

Cross My Heart is fully licensed for all adoption services in the State of Texas and for all ICPC cases. As a licensed agency, and not just licensed social workers, their home studies and services must be accepted in all U.S. and U.S. territory courts.
Cross My Heart has been a licensed agency since 2007 and was granted a permanent non-expiring license in 2011.
Working with Cross My Heart, allows you to complete adoption services that are specific to your needs and we strive to provide guidance and help that makes the entire process less stressful.
SERVICES OFFERED:
Domestic Adoption Home Study

Step-Parent Adoption Home Study

Embryo Adoption Home Study

Surrogate Adoption Home Study & Screenings

Child Custody Home Study & Evaluations

Post Placement Reports

International Adoption Home Study
(based on country of origin & Hague Treaty laws)

Birth mother services
Matching birth moms with adoptive families, pass through expenses (a licensed agency is the only legal way to provide monetary support to a birth mother), counseling, and other services to meet a birth mom's specific needs.

Adoptive parent services
home studies, matching services, advertising, and guidance based on specific needs.

There are a few types of adoption. Here is some additional information about it that will help guide you into knowing what option is best for you. 
Step 1: Learn How to Adopt a Baby / Select the Type of Adoption That is Right For You
As an Adopting Parent, you get to decide on what type of adoption program is best for you and your family. Every adoption opportunity is unique. It is important to understand why you want to adopt a child and what your lifestyle will allow you to realistically be able to do in an adoption.
Domestic vs. international adoption?

Adopt a baby vs. an older child?

Private adoption vs. foster care?

Open, semi-open or closed adoption?

Open Adoption
Open adoption allows the biological parents to participate in the process of placing the child with an adoptive family and may continue to have contact thereafter.

Closed Adoption
 Closed adoption involves no contact with the adopting family before the baby is born. In a closed adoption, the birth mother typically allows an adoption agency to choose the adoptive parents for her.  She will not have any information about the family who is adopting her baby. 

Adoption through Foster Care
Foster adoption is a form of adoption in which a child is placed into a home as a foster child, with the expectation that the child will become legally free and be adopted by the foster parents. Children whose parents have not had their parental rights terminated are in need of temporary – possibly permanent – families. Temporary homes with foster parents are needed while parents' court cases are decided. If the court then decides to fully terminate the parents' rights, the children will need permanent homes.


Domestic Adoption
Domestic adoption is the term used when the adoptive parents, birth parents, and the child live within the United States.

International Adoption
International adoption is a type of adoption in which an individual or couple becomes the legal and permanent parent of a child who is a national of a different country.

Single Parent Adoption
Single parent adoption is defined as an unmarried individual petitioning a court to be the legal parent of a child. Single parent adoption is legal in all 50 states.
Step 2: Research the Costs of Adopting a Baby
Once you decide the type of adoption you wish to pursue, it is important to obtain a solid understanding of the costs involved in the process. Standard fees typically include, but are not limited to: your adoption professional's fees, marketing costs associated in achieving your highest chance possible in reaching potential Birth Mothers, Birth Mother pregnancy-related expenses, home study costs, travel and legal expenses. Costs can vary per state regulations and laws. We have trusted agencies we recommend that will help you and not charge thousands of dollars leaving you with no results. 
Adoption through foster care is one of the most— if not the most —affordable types of adoption. This type of adoption is usually funded by the state, meaning that there are few, if any, fees. Most states even offer reimbursements and subsidies for foster parents depending on the needs of their foster child.
Expenses required for foster care adoptions are very minimal. Even though you may be required to pay for certain costs up-front during your foster care adoption journey, those costs will be offset by assistance and subsidies you will receive.
However, just because foster care is a more affordable option, doesn't mean that it's right for you. No matter how you choose to become a parent, you're in for a life long journey. You need to make sure that you've done plenty of research to evaluate whether this is really the right path for your family.
What Costs are Required for a Foster Care Adoption? 
Even knowing that adopting from foster care is free, you probably still have questions about the costs that you might incur.
There are a few costs that prospective parents should budget for. In general, the average cost to adopt a child from foster care includes:
The biggest cost of adoption through foster care with a public agency is the home study, which can cost anywhere from $1,000 to $5,000. If an adoption is completed through an agency, there may also be required agency fees that an adoptive family must pay (more on that below). Foster parents will also need to consider if they plan on hiring an attorney, in which case there may be some additional costs required upfront.
However, depending on state policies, adoptive families may be reimbursed for these and any other expenses they may incur. Again, please speak with a professional to learn more about the services required for your adoption journey.
Step 3: Choose an Adoption Professional
While researching various adoption professionals, it is important for you to understand that not all entities provide the same services in the same manner. Some handle the entire adoption process, helping you through every step, while others may only handle certain parts of it. It is crucial that you ask each adoption professional you are vetting to give you an accurate layout of ALL the costs you will incur while working with them, whether those costs are a part of their services or not. Adoption laws vary per state, so make sure to check your state adoption laws or ask a legal professional. 
Be sure to understand the differences between an adoption agency, law center, and facilitator. During this step of the process, you should be doing your research, know what you want, need and expect our of your adoption journey, ask questions and keep an eye out for any warning signs and risks during the vetting process. Some questions you'll want to ask an adoption professional include:
What kind of children does the entity place (ages, backgrounds, etc.)?

How many children has the entity placed in each of the past few years?

How does the entity find Birth Parents?

What does the adoption opportunity process look like?

How long, on average, is the wait time?

What is the home study and what does it require?

How much does a completed adoption cost — in total and each part?

What if the adoption doesn't work out and is there any financial protection provided?
Step 4: Work With Your Adoption Professional
After you choose the Adoption Professional you will be working with, it is time to really begin the groundwork in your adoption journey. Your adoption professional will ask you to fill out what seems like a daunting amount of paperwork (a.k.a. an adoption application or questionnaire).
Here is where you will create your adoption plan, firming up your answers on questions surrounding what your preferences are, what you would be open to in Birth Mother situations, what type of contact you would be comfortable with during and after the birth, etc.
You will also be creating your Adoptive Parent profile, which will be seen by and distributed to potential Birth Parents. Adoption Finder can help you create your profile for you in-house, but other adoption professionals may require you to either build your own or work with an outside entity to do so.
Step 5: Complete Your Home Study
Every Adopting Parent in the United States must complete a home study in order to adopt a child. A home study is conducted by someone licensed in your state, usually a social worker. The purpose of the home study is to educate you, the Adopting Family, and prepare you for adoption. The home study evaluates the capability of an Adoptive Family to ensure they are suitable to adopt a child. This step of the adoption process involves the social worker thoroughly gathering information about the Adopting Parents by visiting them at their home, interviewing their family, and ensuring that the Adopting Parents will provide a healthy environment for any child. Questions that a social worker will ask pertain to family background, education, employment, relationships, finances and prior parenting experiences.
A successful home study results in an official approval for the adoption to move forward. In some cases, the social worker may feel that an adoptive placement is not in the best interest of the child or family.
Step 6: Find a Birth Mother
Depending on the type of adoption you have chosen, you will likely either be able to view a list of waiting children (if adopting an older child) or Birth Parents will select you after reviewing Adoptive Family profiles (if you are adopting an infant).
In a newborn, domestic adoption, once a Birth Parent selects a hopeful Adoptive Family, this adoption opportunity is presented to the Adoptive Family who is then given the choice to move forward with or decline the opportunity. If accepted, the adoption process moves on to the next steps of the process prior to the placement of the baby.
It is common for a Birth Mother to want to get to know the Adoptive Parents so she can feel more confident in the family she's chosen and the life she has envisioned for her unborn child.
Nowadays, most adoption professionals, including Adoption Finder, encourage openness in these adoption relationships so everyone involved can feel confident they are making a decision that is best for each side of the adoption triad.
Step 7: Prepare For Your Baby or Child
Before the birth of your baby, you will have to think about home preparation for your new child. This means doing everything required to make a new home safe, welcoming, and comfortable for a new child.
This is also the step in the process where you would usually tell your close family and friends that you are adopting a child. It is important that you, as well as those you share your adoption with, understand that there are certain differences between sharing this news versus sharing news about a pregnancy. For example, some may be tempted to throw you a baby shower. However, it is advised that you proceed with caution, as the adoption is not final nor secure until the finalization step. Additionally, you should prepare yourself for the various types of questions and reactions you will receive when sharing your adoption news.
Step 8: Birth of Your Baby
You will receive a phone call notifying you that either the Birth Mother has gone into labor or your child has been born. Depending on your adoption plan with the Birth Mother, you may be able to be in hospital room or waiting room for your baby's birth. It is important that you are aware of what happens at the hospital before, during and after the birth.
Your Adoption Team will ensure that everything at the hospital goes as smoothly as possible, so that you can enjoy the moment you've been long waiting for: holding your precious baby in your arms.
Step 9: Bring Home Your Baby and Petition to Adopt Your Baby
If you are bringing your baby home from another state, you will need to complete the ICPC ("Interstate Compact on the Placement of Children") process. This can take anywhere from 8-14 days after the placement documents are signed.
Once you are able to bring your child home, your adoption professional (or third-party attorney) will begin the process of petitioning for your adoption. Once this petition is submitted to the court and all necessary legal forms have been signed and submitted by yourselves, the Birth Parents, and all parties involved, it can then be finalized by the court.
During the time an adoption is not yet finalized, the Post Placement Period is usually between 1-18 months. The time period is usually set by the state that maintains legal jurisdiction for the adoption. However, sometimes the legal state of the residence of the Adopting Parent(s) may have requirements that also apply.
The Post Adoption Supervisory Report is usually conducted in the adoptive home with all household members present. This is an extremely detailed account of the adjustment to the adoption. There is a review of the child's health and habits, development, when they reached developmental milestones. If there are any assessments and/or recommended services made, it will also include how those needs are being met. There is a discussion of the child's daily activities, academic progress, and any recreational activities or social interactions. Is the child bonding with family members? How does the child relate to peers and adults? There is a discussion with the adults in the home—how are they handling the new responsibilities, bonding with the child, maintaining relationships with other household members and peers, what changes in work schedules or resuming work after taking a leave from work. Relationships with extended family and family friends are reviewed—including their reaction to the adoption and acceptance of the child. Any changes in the physical home, finances and schedules are detailed. There is also a review of adoption in general—what is the experience and feelings about it now, as well as discussion of adoption with the child, family and friends. Resources and referrals are made as appropriate or needed.
Step 10: Finalize the Adoption of Your Baby
Congratulations! You've reached the final step in the adoption process. Thankfully, this is the easiest step. A finalization hearing legally completes the adoption process. Your social worker or attorney will notify you of the date and time. The proceeding lasts about 10 to 30 minutes. At this hearing, you, the Adoptive Parent(s) are given permanent legal custody of the adopted child.
At the end of the finalization hearing, you are "a forever family!"
If you have any questions about the adoption process or how to adopt a baby, please feel free to contact us so we can answer all of your adoption-related questions and get you started on your adoption journey!
Here are additional facts about adoption.
How common is international adoption?
U.S. citizens completed 19,942 international adoptions in 2007, which declined to 9,319 in 2011 as international adoptions became more restrictive.2
How common are open adoptions?
Today, almost 60%-70% of domestic adoptions are now open adoptions, which means there is a degree of openness and disclosure of information between adoptive and birth parents regarding the adopted child.3
How many Americans are adopted?
Around 7 million Americans are adopted.4
How many children in American are adopted?
There are about 1.5 million adopted children in the United States, which is 2% of the population, or one out of 50 children.5
How many children are adopted each year?
Around 140,000 children are adopted by American families each year.6
How common is adoption?
Nearly 100 million Americans have adoption in their immediate family, whether this includes adopting, placing, or being adopted.7
6 in 10 Americans have had personal experience with adoption, meaning that they themselves, a family member, or a close friend was adopted, had adopted a child, or had placed a child for adoption.8
What is the average age of an adopted child in a private adoption?
62% were placed with their adoptive families within a month of birth.
How many children are adopted per year?
About 135,000 children are adopted in the United States each year. Of non- stepparent adoptions, about 59% are from the child welfare (or foster) system, 26% are from other countries, and 15% are voluntarily relinquished American babies.
How many people are waiting to adopt a child?
There are no national statistics on how many people are waiting to adopt, but experts estimate it is somewhere between one and two million couples. Every year there are about 1.3 million abortions. Only 4% of women with unwanted pregnancies place their children through adoption.
What is the most adopted race?
Thirty-seven percent of adopted children are non-Hispanic white, compared with adoptive parents, 73% of which are non-Hispanic white. Overall, 40% of adopted children are of a different race, culture, or ethnicity than both of their adoptive parents (or their sole parent if there is only one parent in the household).
How many children are available for adoption in the United States?
There are 107,918 foster children eligible for and waiting to be adopted. In 2014, 50,644 foster kids were adopted — a number that has stayed roughly consistent for the past five years. The average age of a waiting child is 7.7 years old and 29% of them will spend at least three years in foster care.
What is the average age of an adopted child?
The average child waits for an adoptive family for more than three years. 11 percent spend 5 years or more waiting for a family (43,083 children). The average age of children waiting for an adoptive family is 8.
How many children are in the foster care system in the United States?
On any given day, there are nearly 428,000 children in foster care in the United States. In 2015, over 670,000 children spent time in U.S. foster care. Unfortunately, instead of being safely reunified with their families — or moved quickly into adoptive homes — many will languish for years in foster homes or institutions.
How long does the average child spend in the foster care system?
More than 60% of children in foster care spend two to five years in the system before being adopted. Almost 20% spend five or more years in foster care before being adopted. Some never get adopted.9
How many children are waiting to be adopted in the United States?
Of the over 400,000 children in foster care in the U.S., 114,556 cannot be returned to their families and are waiting to be adopted. Among these children, males outnumber females, African American children are disproportionately represented, and over half are 6 years old or older.10
How much does it cost the government to keep a child in foster care?
State and federal expenditures for foster care administrative costs (placing and monitoring children in foster care) totaled $4.3 billion. The number of children entering foster care or in care totaled 679,191. Thus, the average administrative cost per child served per year was $6,675.
Adoption Assistance
Adoption assistance exists to remove the financial and other barriers that may prevent a family from adopting from foster care and ensure that a child's special needs are met until she legally becomes an adult, between the ages of 18 and 21. Adoption assistance can include medical assistance and monthly maintenance payments.
 Read more about Title IV-E in Adoption Assistance for Children Adopted from Foster Care, a fact sheet from Child Welfare Information Gateway.
State adoption programs may provide financial assistance for children who are not covered by Title IV-E funds. Eligibility and amounts of assistance vary by state. Find information about financial assistance by state.
Helpful Adoption Information
Although no more than 2% of Americans have actually adopted, more than 1/3 have considered it.
One out of every 25 U.S. families with children have an adopted child. According to the U.S. Census, about half of these have both biological and adopted children.1
Adoption is all around us, even if we don't see it. Every day, there are children being adopted into loving families all across the country. Adopting a baby requires guidance from an experienced adoption professional.

OPEN ADOPTION
While you have been researching if adoption is right for your family, you've most likely heard the term "open adoption." Openness in adoption refers to the communication birth families, adoptive families, and adoptees have after an adoption placement. There are varying levels of openness in post-placement communication.
​Open adoption requires people to think about adoption in a new way. Rather than "subtracting" children from their birth family and "adding" them to their adoptive family, open adoption means that the family has been transformed and extended to form what we call an "adoptive kinship network." Family members find themselves entering a more complicated set of relationships, but one that is usually rewarding for everyone (Grotevant, 2015).
Here are some questions to ask yourself as you are considering if open adoption is right for you:
How often am I willing to share updates with the child's birth family?

In what ways am I willing to share updates? (Telephone, Text, Pictures)

Am I willing to keep my promises of communication/updates with the birth family?

Do I want my child to have a relationship with their birth family?

Am I willing to talk to my child about and help them make meaning of contact with their birth family?

How might sharing updates or having visits affect me and my child?

Do I want my child to have ready access to their biological family? Medical information? Biological siblings?

Do I want my child to be able to ask their birth parents questions about why they chose adoption?

What do I do if the relationship gets difficult? Am I willing to put the effort into the relationship even if it does get difficult?

How will I react if my child wants more or less contact as they get older?

Do I feel like I need my adoption professional to mediate this new relationship?
Author: Adoptionlife.org
CLOSED ADOPTION
Fact #1 – Closed adoption involves no contact with the adopting family before the baby is born. In a closed adoption, the birth mother typically allows an adoption agency to choose the adoptive parents for her.  She will not have any information about the family who is adopting her baby.  In a closed adoption, there is no contact with the adoptive family before the baby is born.
Fact #2 – There is no future contact with the adoptive family in a closed adoption. Generally, it is not possible to have contact with the family or baby in the future in a closed adoption.  Birth mothers are not required to provide their contact information to the adoptive family.  However, it is possible to provide this information in case a birth mother wants future contact.  Even if the birth mother provides contact information, the adoptive family is not required to contact the birth mother for any reason.  This includes if they divorce or one of them dies or if either remarries and gets custody of the child.
Fact #3 – You cannot share ongoing medical information. If you do not share contact information with the adoptive family, they cannot request medical information from you moving forward.  You also will not get medical information from them regarding your child.  This information could be important when diagnosing and preventing illness.
Fact #4 – Privacy is the main benefit of a closed adoption. If you feel the need for privacy, that is the main benefit of a closed adoption. The adoptive family cannot contact you without your prior consent.  Similarly, your child will not contact you in  the future.  Also, any children you have now, or in the future, will not have contact with the sibling who was adopted.  However, adoptees may find their biological families today using new DNA technologies and social media.
​
Fact #5 – Studies show that closed adoption isn't always best for the child.
There are some drawbacks to a closed adoption that affect the birth mother and the adoptee.  Here are a few:
Birth parents might change their mind in the future and want contact

Uncertainty about how the baby is doing may cause depression and anxiety

Knowing the child is happy and thriving can help with processing grief and loss

Not knowing their birth parents can lead to a feeling of loneliness and lower self-esteem for a child

Many adoptees feel a piece is missing when they don't know any information about their biological family
Author: Family Formation
So you're a single man or woman and contemplating adoption? You may even be asking the question; "Can I adopt if I'm single?" Yes, single women and men may adopt through Adoption Finder!
It is important to note that our ability to assist any single applicant is determined in part by the laws governing adoption in your state of residence because some states do not allow adoption by gay applicants. Please do check with your state before applying. 
According to a 2013 National Survey of Adoptive Parents, U.S. Department of Health and Human Services, 27 percent of adoptive parents are single men and women! Approximately 22.7 percent are female, 5.5 percent male. Since the 1970s, across the country, the number of single-parent placements slowly and steadily continues to increase, both in domestic and inter-country adoption. International options are on a slight decrease but are still a viable option if you are flexible and patient.
Most single adoptive parents are female, are most likely to adopt older children than infants, and are less likely to have been a foster parent to the adopted child.

Single parent applicants are self-selective. Most applicants have high levels of emotional maturity and a high capacity for frustration, and are independent but linked to a supportive network of relatives.

As a group, the single parent adopters of U.S. children tended to adopt "special needs" children who were older, minority, and/or handicapped children.
SINGLE PARENT PROFILE
1. Women are more likely to adopt children as single parents than men are and are the most likely group to adopt an older child in need.
2. Most single parent applicants have emotional stability and a support network of family and friends that will help them raise an adopted child.
3. Single parent adoptions are also one of the groups that adopt the most special needs children who need families.
4. Unmarried women are more likely to pursue international adoption over domestic adoption.
5. Single women often pursue motherhood for the same reasons married women do.
1 Jahng, Kenny. "Adoption Awareness: 10 Facts about Adoption That Will Surprise You." The Adoption Journey. June 17, 2012.
2 Domestic vs. International Adoptions." American Adoptions. 2013.
3 Adamec, Christine and William L. Pierce, PhD. Adoption. 2nd Ed. New York, NY: Facts on File, Inc., 2000.
4 "Adoption Facts." Adoption Research. 2013.
5 "Research: Adoption Facts." Evan B. Donaldson Adoption Institute. 2013. Accessed: September 17, 2013.
6 "Adoption Facts." Adoption Research. 2013.
7 "Adoption Facts." Adoption Research. 2013.
8 Evan B. Donaldson Institute, 1997
9 Coughlin, Amy and Caryn Abramowitz. Cross-Cultural Adoption. Washington, D.C.: Lifeline Press, 2004.
10 "Facts about Adoption." Children's Rights. 2013.